Layered Narratives, Literary Spirits: Writing The Kimono Tattoo
20 April 2022 @ 17:00

-

18:00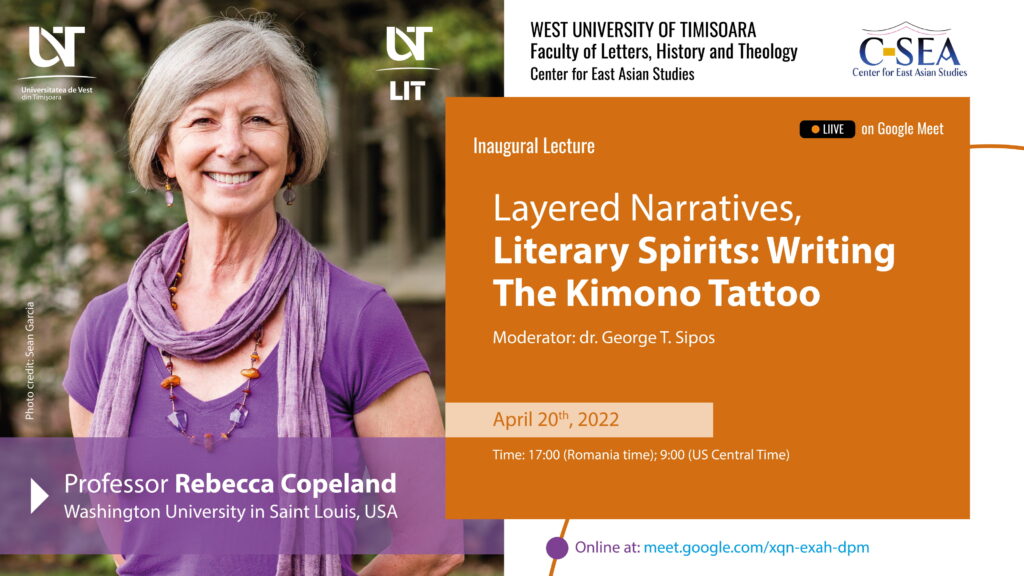 Persons interested to attend are asked to RSVP
In her lecture, Professor Copeland will discuss her debut novel The Kimono Tattoo published in June 2021 by Brother Mockingbrid Press and recipient of the 2022 Independent Press Award.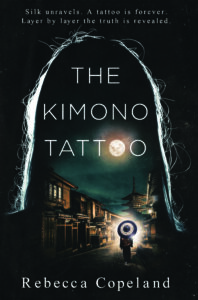 Silks unravels. A tattoo is forever. Layer by layer the truth is revealed.
This vision of silk enrobing the body, inky beauty of tattoos, and the specter of murder drove my first novel, The Kimono Tattoo.  A fan of the murder mystery, I planned to try my hand at this popular genre to introduce American readers to Kyoto and aspects of Japanese culture. But before I was even aware of it, I found my story incorporating tropes, images, and scenarios from earlier Japanese literature, and especially from the work of Uno Chiyo and Enchi Fumiko. At times I almost felt as if a portal had opened somewhere in my writing world and had admitted the spirits of these writers. How did my earlier encounters with their twists in plot and character, and their hidden messages shape what I wrote? In this presentation I will reflect on these visiting spirits as a means to pay homage to the literary luminaries that inspired my debut novel and guided my career as a scholar, teacher, and translator of Japanese women's writing."
(Rebecca Copeland)
Rebecca Copeland is professor of Japanese literature at Washington University in St. Louis. Her research focuses on modern women's writing, translation, and gender. Her published works include The Modern Murasaki: Writing by Women of Meiji Japan (2006), co-edited with Dr. Melek Ortabasi; Woman Critiqued: Translated Essays on Japanese Women's Writing (2006); The Father-Daughter Plot: Japanese Literary Women and the Law of the Father (2001), co-edited with Dr. Esperanza Ramirez-Christensen; Lost Leaves: Women Writers of Meiji Japan (2000); and The Sound of the Wind: The Life and Works of Uno Chiyo (1992). She has also translated the works of Kirino Natsuo, Uno Chiyo, and Hirabayashi Taiko, among others.
More recently she has turned her attention to creative writing. Her debut novel, The Kimono Tattoo, winner of the 2022 Independent Press Award, was published by Brother Mockingbird Press in June 2021. That same month, Stone Bridge Press released Yamamba: In Search of the Japanese Mountain Witch, a collection of creative responses to the yamamba, which she co-edited with Linda C. Ehrlich.